Guitarist Fraser John Lindsay and his Blues Incentive have become a welcome addition to Scotland's thriving music scene. Fraser's Blues Incentive gigs always feature a melting pot of top musicians; their fusion of influences and creative talent ensure an exciting, original and entertaining show; a fantastic night out.
"To see them play live is a truly energetic and vibrant experience. Everything about the band is pure dynamite, further emphasized by guitarist Fraser John Lindsay's mean riffs, and blues-soul vocalist Charlotte Marshall's fiery performance"
Edinburgh Blues Club opening night review - Voodoo Rooms 2014
For many years Fraser has been performing his Blues Incentive show all over Scotland with some of the best musicians around; showcasing his band's unique blend of blues, rock n roll and jazz influences with plenty improvisation.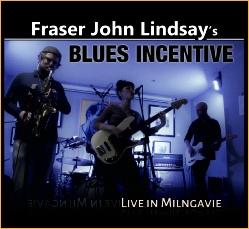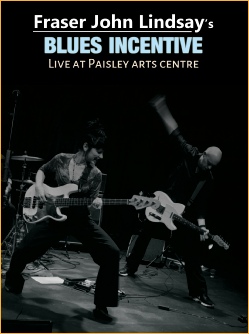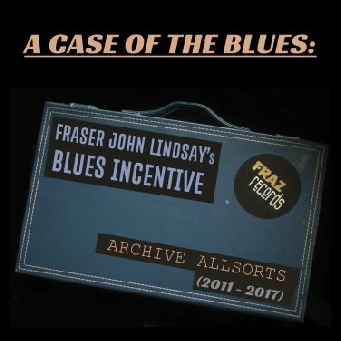 BRAND NEW FJLBI PLAYLIST:
"A CASE OF THE BLUES"
LAUNCHED JUNE 2020
LISTEN NOW ON:

Many of us have a case of the blues at the moment. I have a little case of the blues myself; my "little blue case" contains the ever-growing FJL Blues Incentive archive: early live performances, bootleg recordings, official CD & DVD releases, as well as previously unreleased studio recordings. From this "Archive of Allsorts" I have meticulously selected my best and most treasured recordings spanning the first seven years of my Blues Incentive project from 2011-2017. This FJLBI playlist features many of the wonderful line-ups that have played with me during this period. I look forward to playing with them all again soon. In the meantime I hope you will enjoy this selection of classic blues performed by myself on lead guitar along with some fantastic musicians and singers; showcasing my band's unique blend of blues, rock n roll and jazz influences with plenty improvisation.
I'd like to thank everybody who's been involved with my Blues Incentive project so far and particularly those featured on this fantastic playlist:
JENNIFER HARDIE (VOCALS)
ALISTAIR FLEMING (VOCALS & GUITAR)
CHARLOTTE MARSHALL (VOCALS & BASS)
TIM CLARKE (BASS GUITAR)
KENNY ROBERTSON (DRUMS)
CAMPBELL (SAX)
GORDON DICKSON (SAX)
TOM LIVINGSTONE (ORGAN)
GRAHAM CORDINER (PIANO / ORGAN)
TIM BROUGH (PIANO)
ARCHIE MCEWAN (ORGAN)
FRASER JOHN LINDSAY
Director
FRAZ RECORDS
CAT: FRAZFJLBIPL1
In 2018 Fraser launched his latest Blues Incentive CD / DVD capturing, in fantastic audio and video quality, his 2017 concert at Paisley Arts Centre.
FJLBI albums LIVE IN MILNGAVIE & PAISLEY ARTS CENTRE are available now on CD / DVD from FRAZ RECORDS; Fraser's brand new online store features archives of information, videos and photographs.

BRAND NEW FJLBI PLAYLIST:
"A CASE OF THE BLUES"
LAUNCHED JUNE 2020
LISTEN NOW ON: